Vision / Mission
Our mission at Bergstrasse is to widen the community of people who know, love, and follow God.
We do this through worship, learning, stewardship and giving, service, and witnessing. As we encounter in worship and learning events the God who so loved the world that He gave his only begotten Son, we grow as individuals and as a community of faith. This growth is evident in our stewardship of all that we have received in this life, and in our giving of our time, talent, and treasure to serve others in need. This faith active in such actions and deeds is our witness to the community and the world. It is also our way to widen the community of people who know, love, and follow God. This has been true since the congregation was founded on May 18, 1752. It remains our purpose even now and with God's continued blessing, will remain well into the future.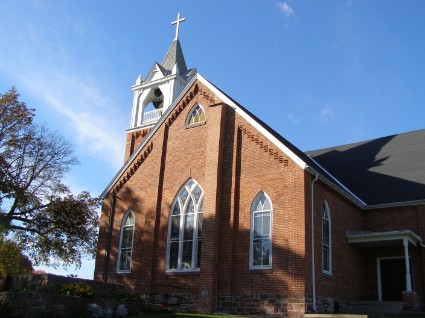 Ephrata Lutheran Ministry
Not everything that happens during a global pandemic is bad! When directives were issued in March 2020 to curtail in person activities, Bergstrasse Lutheran Church was faced with making changes quickly. Down the road about a mile, Holy Trinity Lutheran Church was faced with a same situation. Pastor Jim Goodyear and Pastor Mark Luscombe of Holy Trinity along with their respective music teams, began to pre-record weekly worship services made available online. Little did we know the impact our congregations would experience! We were also connecting with a worldwide community through digital technology desiring to know God more fully!
Having heard positive reviews, both pastors began to consider the possibility of continuing to nurture this blossoming cooperative ministry. The Leadership Teams of both congregations readily agreed! Representatives of each congregation, both pastors under the facilitation of retired Pastor Larry Hummer began their work to discern our future ministry together. We quickly learned both congregations are experiencing similar challenges and share in similar strengths for ministry.
In its infancy Bergstrasse and Holy Trinity have worshipped together digitally, engaged in Bible & Book Studies via ZOOM, offered a drive-thru Spaghetti Dinner, gathered school supplies for Ephrata Area Social Services, collected nearly 150 lbs. of non-perishable food items during our Annual Fall Food Drive, and prepared 20 Thanksgiving Food Boxes for area families experiencing food insecurity. This is just the beginning! Plans are currently being considered for additional cooperative worship opportunities, new learning models, and new ways to gather in fellowship.
The Holy Spirit is at work in Ephrata! It is our hope to continue the work already begun, to more effectively serve our neighbor with abundant love. We are called to serve with justice, show mercy, and to walk humbly with our God.
Bergstrasse Evangelical Lutheran Church, 9 Hahnstown Road, Ephrata, PA 17522 (717) 733-7808