Serving beyond our Walls
Bergstrasse has a strong tradition of outreach and mission both locally and throughout the world. We honor our call to serve our neighbor near and far.
OUR PARTNERS IN MISSION - local organizations who serve our neighbors experiencing life challenges. We offer our financial resources and by volunteering our time.
Luther Acres
,
mature adults living in community in Lititz PA.
Lutheran World Relief
,
an outreach mission of the ELCA offering humanitarian goods around the world. Each year Bergstrasse offers nearly 100 hand sewn quilts and 50 school kits.
Lititz Chooses Love, by providing non-perishable food and gently used to clothing to be used in the local community.
Stitches of Love -
Hand crafted quilts for Lutheran World Relief meets the Fourth Tuesday of each month beginning at 9am in the Lower Level.
Picture Credits:
TOP - Quilts displayed for Lutheran World Relief.
MIDDLE - Filled Backpacks and Quilts displayed for Lutheran World Relief.
BOTTOM - Bergstrasse is the Gathering Place for local congregations sending human service needs to Lutheran World Relief.

Gathering for distribution to our neighbors
Ephrata Area Social Services - ongoing collection of canned goods, non perishable items
Lancaster Emergency Services - ongoing collection of under garments for men, women and children, including thermal wear. Distributed via the Shower Truck serving persons without homes in Lancaster County.
Advantage House - Women and Children's winter coats, mittens, gloves, hats, scarves
All donations can be dropped off at Bergstrasse Church during office hours or at worship times.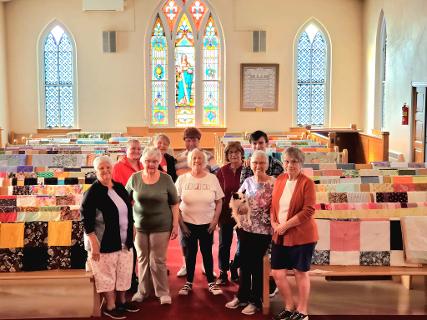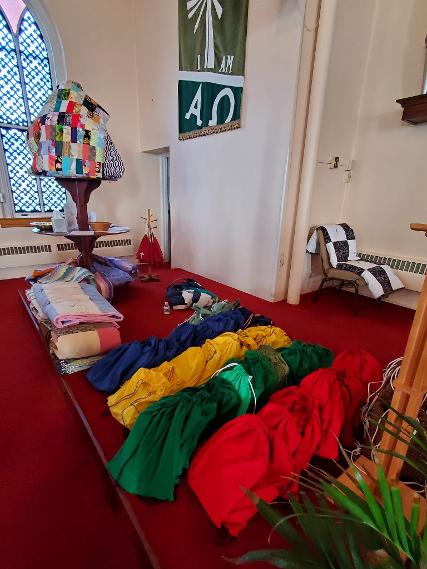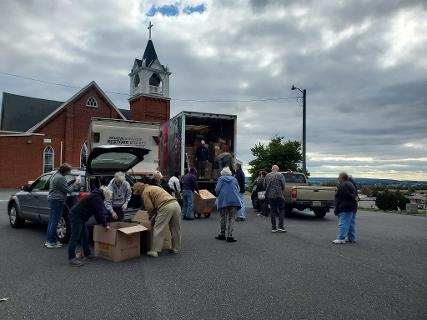 Bergstrasse Evangelical Lutheran Church, 9 Hahnstown Road, Ephrata, PA 17522 (717) 733-7808