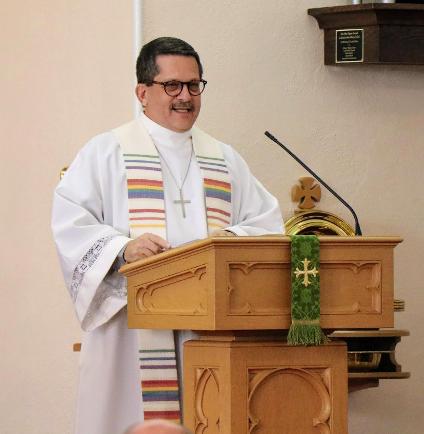 The Rev. James (Jim) Goodyear
Pastor Jim recently learned his Great-Great-Great-Great-Great-Great Grandfather, Elias Meyer was a Charter Member of Bergstrasse Evangelical Lutheran Church. Elias landed at Philadelphia in 1727 at the age of 29, and soon established a home in Earl Township.
On April 8, 2019 the Rev. James (Jim) Goodyear began to serve as Pastor at Bergstrasse Lutheran Church. In a sense Pastor Jim returns 'home' having grown up in York County. He most recently served in several ELCA congregations in the Philadelphia suburbs after graduating from Lutheran Theological Seminary at Philadelphia (now United Lutheran Seminary) in 2010.
Pastor Jim's ministry is deeply rooted in hospitality - creating safe spaces for engagement to experience God's love. Hospitality for Jim began prior to attending seminary while working at Rutter's Food Shoppes and later as General Manager for Altland House Catering.
Pastor's Jim's passion is to encourage others to live a life that overflows with love, especially persons for whom society or the Church has marginalized or even excluded. Throughout his ministry Pastor Jim has worked with youth and young adults to grow their relationship with God through Jesus Christ. He has served as a faculty member for Pinecrest Leadership Ministries, and served with the Youth Ministry Leadership Team of the Southeastern Pennsylvania Synod.
Pastor's Jim's unique sense of humor and outlook on life is an open invitation to encounter God wherever you are on your life journey! Since arriving at Bergstrasse, new and interesting experiences are shaping our future - God on Tap, Building a Church, Engaging Worship, and trying new things with little expectation of outcome except to know the Holy Spirit is active in our lives!
Pastor Jim is serves on the Candidacy Committee of the Lower Susquehanna Synod, and as Assistant Director of Pinecrest Lutheran Leadership Ministries a Camp for hight school and young adults. Pinecrest is a ministry of the Metro New York Synod.
Pastor Jim is a proud father of two adult sons, Bradley (Elizabeth) and Bryan (Andrea) and four grandchildren.